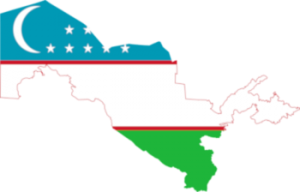 Uzbekistan
is a Central Asian nation renowned for archaeological and historic sites from the ancient silk road.
Samarkand, a city in Uzbekistan, was a major trading point along the route. Samarkand like the rest of Uzbekistan contains numerous historical artifacts of note like the Registan.
The Uzbek people are a Turkic ethnic group who are also found in neighbouring Afghanistan, Tajikistan, Kyrgyzstan and Turkmenistan. They speak a language belong to the Karluk branch of Eastern Turkic.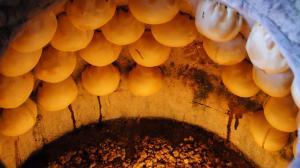 The origin of Uzbekistan begun with Persian nomads who built the famous towns of Samarkand  and Bukhara in the first millennium.
The Persian nomads developed the agriculture industry and positioned Uzbekistan as a major transit point along the ancient Silk Road.
Uzbekistan subsequently fell under Arab and Mongol rule before the Uzbek tribes settled in the region.
The Persian, Arab and Mongol triad contributed to a rich cuisine in the region based on the Tandoor or known as the Tandir in Uzbekistan.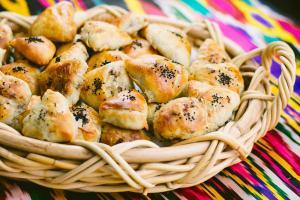 One popular dish in Uzbekistan known as the "Queen of Uzbek cuisine", is the Uzbek Samsa. The Samsa originated from Persian settlers and became a staple of Uzbek cuisine.
Samsa is a puff pastry based in the Tandir, which is available with a plethora of fillings.
Some common fillings are potatoes and cabbage, meat (lamb, chicken and beef) with vegetables (pumpkin, potatoes and onions), in addition to an abundance of spices such as black/red pepper and cumin seeds.
In addition to the Samsa, numerous dishes are cooked in the Tandir, from cakes and pastries, to hearty meat based dishes. The Tandir is an essential part of Uzbek cuisine.
Feast on the culinary treasures of Uzbek cuisine with an Artisan Tandoor!
Sale!

Tandoor Crete

More info

The Tandoor Crete is our medium sized Tandoor, feeding 10 people with ease. Height 82cm, Belly Diameter 54cm, Mouth Diameter 29cm, Wall Thickness 5cm and weight 97kg. ...

Inc. GST

Add to cart