We believe our range of Tandoors are the perfect equilibrium between aesthetics and usability. Our artisans have created a product that will last for decades while illuminating your backyard or patio with boundless character.
Artisan tandoors are hand-crafted by a collective of craftsmen and artists, who are determined to rekindle an ancient method of gourmet cooking throughout the world.
Each tandoor is entirely crafted by hand with the utmost precision and dedication. These products are not mass-manufactured, unlike the products sourced from China, that are made cheaply and soullessly.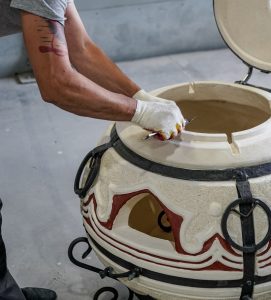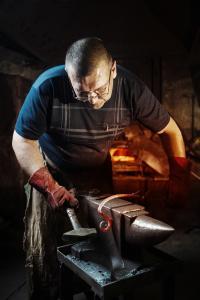 Our Ceramists source only the highest quality bole unique to the Caucasus mountains.
It is this earthy and mineral-rich bole that adds immense flavor during the cooking process and compliments the wood/charcoal flavors and aromas- Truly making Artisan luxury tandoor unique!
Our Blacksmiths work tirelessly to complement the work of our Ceramists, in forging our accessories and the wrought iron support framework for each Tandoor.
The process to manufacture each Artisan luxury tandoor takes approximately 4-5 weeks, from the preparation of the Chamotte ceramic to our blacksmiths forging the support frame and accessories.
Whether it is our large tandoors or portable tandoors, meticulous attention to detail is paramount to us.
With Artisan Tandoors, you can rest assured that you are receiving an ancient masterpiece that will intrigue your guests and satisfy their taste buds like nothing else!